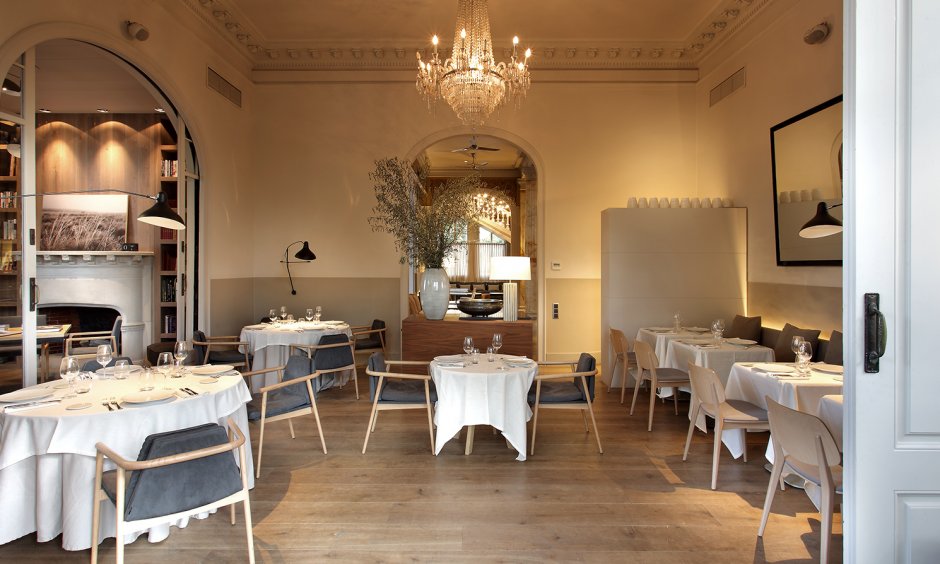 THE BEST RESTAURANTS IN BARCELONA TO EAT HEALTHY AND SUSTAINABLY
Discover everything Barcelona's Metropolitan restaurants offer you to combine sports and healthy eating
Summer is approaching and the fever for bikini operation, and although it is no secret the essential of combining exercise with a balanced diet, can sometimes be complicated. The frenetic pace of day to day can make you neglect what you eat and, above all, that you do not follow a routine.

Much is talked about the routines of physical exercise, the need for perseverance in training to achieve the desired results, but what about the diet? A healthy and balanced diet is very important, but good habits and routines are basic to feel good both outside and inside.

Metropolitan makes it easy for you, because in your Barcelona restaurants you can eat in a balanced way before or after a training session. Under the pillars of well-being, nutrition and sustainability, the chefs of the Metropolitan clubs of Barcelona create menus with healthy and natural proposals. In the centers Metropolitan Iradier, Galileo, Sagrada Familia y Badalona You will find comfortable spaces and care to the last detail where you can take care of what matters most, your health.

Proximity and avant-garde cuisine at the hands of the best chefs
With product of season and proximity, in the Metropolitan restaurants Balanced dishes are prepared with a 5 star gastronomic service. The chefs work together with the Nutrition department to get fusion cuisine menus that incorporate the most avant-garde recipes with the perfect nutritional balance.

Following the latest trends in food, in Metropolitan restaurants you can find recipes with trendy super foods such as matcha tea, chia or açai, along with vegan and gluten-free options. You can have breakfast and even have a brunch with breads made with sourdough, fresh smoothies and cold-pressed juices; and you can also indulge yourself with an exquisite dessert without refined sugar.

Each month, in addition, monographs are made from the Department of Nutrition on different foods such as vegetable proteins, which were the protagonists in the month of April. For a whole month, you can discover the properties of food and numerous ways to prepare it, with recipes that you can try on the menu of Metropolitan restaurants.

In the month of vegetable proteins, in addition to the different recipes available in restaurants, a talk with show-cooking was held by Núria Hernández, an expert in dietetics and nutrition at Metropolitan. Núria explained that proteins of vegetable origin are as complete as animal proteins, that we should eat them at 3 times per week and that they are more sustainable, since 10 times more water and 18 times more land is needed to produce meat than legumes.

Also, for those times when there is no time to sit down to eat, and that hurry, the Metropolitan restaurants offer you their take-away service. Maintaining the same quality and the careful presentation of their dishes, the restaurants prepare their menus to take away, so that you can eat healthy anywhere and at any time of the day.

Sustainable restaurants
Another of the pillars on which Metropolitan restaurants work is sustainability. The commitment to the environment plays a very important role in the creation of the menus, because taking care of yourself inside and you can also contribute to improve the planet. From the selection of raw materials to the use of recyclable and compostable materials, every detail counts.

In Metropolitan restaurants, products as important as olive oil come from small farmers. The coffees and teas are guaranteed fair trade and the wines are made with organic production techniques. In addition, you can find a vending service with 100% BIO products.

Metropolitan is working to increase the use of glass containers to the detriment of plastic, as you can see in the packaging of take-away products, which are already using recyclable materials. A commitment that will facilitate the adaptation of the centers to the new European regulations on the prohibition of the use of plastics that will come into force in 2021.

Enjoy the Metropolitan restaurants and start taking care of yourself inside and out! And remember that at your nearest Metropolitan club you can get advice with the expert team in medical and sports nutrition.