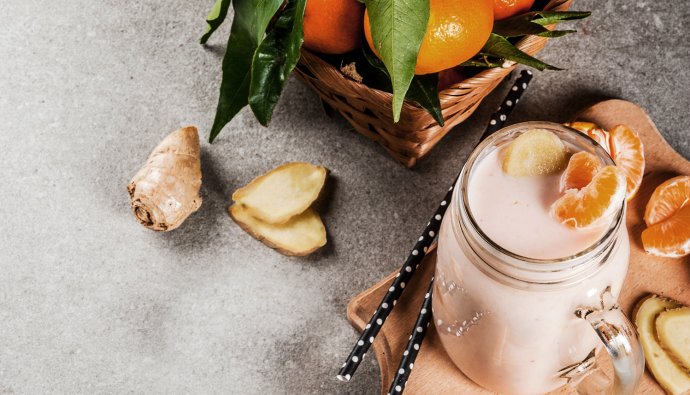 3 shakes that will give you energy
Here are 3 smoothies that will give you energy to face the winter.
In winter when it starts to get dark earlier and the sun's rays don't shine as long as in the hot months, people tend to develop less serotonin. This is usually related to the fact that people, the winter months are less happy, have less energy, do not eat as well as in summer, etc. From the club it is considered that it is necessary to end these characteristics and beliefs regarding winter and for this reason, here you have 3 shakes that will give you energy to face the winter.

Tangerine and Ginger Smoothie

This smoothie, easy and quick to prepare, will be one of your best allies this winter if you want your Energy increase, in addition to reinforcing your immune system and strengthen your defenses.

To carry it out, it will only be necessary 2 kg of tangerines y 3cm fresh ginger. Regarding the preparation, the first step you must follow is to put the tangerines for 1 hour in refrigerator. Next, from the 3 cm of ginger we must cut 4 slices fine and peel and grate the remaining ginger. Once 1 hour has elapsed since the tangerines are in the fridge, you have to take them out and split them one by one in half. Next you have to squeeze them to obtain the juice of these and mix it with ginger grated. Distribute it in glasses and on the edge of each one, decorate it with one of the ginger slices.

Avocado Banana Smoothie

Thanks to the properties of avocado, this second smoothie will provide antioxidants, vitamins, minerals y fibers to increase your defenses. The ingredients you need are 1 and a half cup de milk, 2 tbsp of seeds of Chia, 1 avocado, 1 banana and a half.

To prepare it you must shake, first of all, the milk with the seeds of chia for approximately 30 seconds. Next, you must peel el avocado and banana and incorporate them into the blender and you have to beat again until everything is well incorporated. Distribute it in glasses and drink!

Kiwi honey smoothie

Another winter fruits It is, without a doubt, the kiwi. This is one of the foods that will help you reinforce and strengthen your immune system along with honey, who also provides these benefits, in addition to to calm y relax.

The ingredients that are used to give out with this magnificent smoothie are: 3 kiwis, 2 tablespoons of honey, 273 g of milk y lemon juice. To prepare it in advance, you must peel and slice the kiwis. Mix them together with miel and lemon juice, and once the three ingredients are well incorporated, add the milk and grind the mixture until it is sufficiently homogeneous.

These are the 3 shakes that will give you energy and much more during this winter. Do you want to know more about the properties of each fruit or how to prepare more smoothies similar to these? Contact our nutrition experts and they will indicate the shakes that best suit your needs.